Upgrade your Las Vegas vacation in a Ferrari rental from Dream Exotics. A Ferrari exotic rental car offers you unmatched luxury with enough power under the hood to make your driving experience fun and adventurous. Cruise the strip and feel like a high roller on your next trip.
Vegas Excitement In A Ferrari Rental
If you're looking for something to do during your next Vegas trip, you should consider renting a Ferrari and driving through Nevada's beautiful landscapes. Hug the curves out at Red Rock Canyon or experience the Valley of Fire. Stay in town and find a new sense of freedom when you drop the convertible top and show off driving down The Strip.
We have several Ferraris in our fleet, and you can choose between the classic Ferrari California, Ferrari 458 Spider, or the new 488 GTB, just to name a few. With their impressive engines and superior handling, anyone can drive one of these exotic luxury cars.
Ferrari California
A favorite among car enthusiasts and novice fans alike, the Ferrari California is a top choice for our customers. Unlike most of our other luxury sports cars, it features a back seat and is perfect for a night out in Vegas. Everyone will notice when you and your closest friends arrive in a Ferrari. It's hard not to observe features such as:
483 Horsepower
Blazing Fast V-8 Engine
Retractable Convertible Top
7-Speed Dual-Clutch Manual w/F1 Style Paddle Shift
Ferrari 488 Spider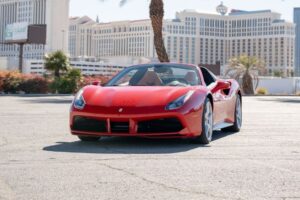 The Ferrari 488 Spider might be the sexiest and most innovative Ferrari to date. Rent one today and experience its powerful performance and effortless control. With a 3.9-liter turbocharged V-8 engine, this beast cranks out 660 horsepower. The 7-speed F1 dual-clutch transmission (Automated Manual) will have you sprinting from 0-60 MPH in 2.8 seconds up to a top speed of 206 MPH. Next time you're in Vegas, rent the Ferrari 488 GTB for the ultimate supercar experience.
Ferrari 458 Italia Convertible – Call For Availability
This ferocious convertible will have your passenger holding onto the seat. With its retractable hardtop and provocative design, this car is meant for Vegas. Inspired by Formula 1 Racing, the Ferrari 458 Italia Spider convertible has immense power with exceptional handling. Feel the roar of its powerful V-8 engine as you hit 60 MPH in under three seconds. It features a 7-Speed Dual-Clutch Manual with F1-style paddle shifting and sprints past previous Ferrari models. Rent one of these dream machines and find out for yourself today.
Get Your Ferrari Luxury Rental
Rent a Ferrari in Las Vegas and remember what it feels like to be alive. There's no better way to enhance your vacation than to experience it in a luxury car. At Dream Exotics, we make it easy to rent an exotic car, and we have the largest fleet at the most affordable rates in town. Contact us today to make your Ferrari reservation.